Hello, I'm Tim Patterson
Tradeshowguy
Welcome to TradeshowGuy.net
Now that it appears that the COVID pandemic is retreating, and things are slowly getting back to normal, here at TradeshowGuy Exhibits we are glad to be hearing from old friends and clients about the prospects of new projects.
If you have something new in mind, whether it's a completely fresh 'from the ground-up design and build, or a simple refresh of your current exhibit property, reach out to us – we're always glad to discuss how to make your brand look and communicate better on the tradeshow floor. 
I Write About Tradeshow Marketing
I started TradeshowGuy Blog in November, 2008. At that time I was working as VP of Sales and Marketing at Interpretive Exhibits in Salem, Oregon (since closed thanks to the owner's retirement). I knew blogging was a coming thing and I was looking for something to start a blog about. A year or so earlier, a former radio colleague made a comment that I was the 'tradeshow guy' now, and that sort of stuck with me.
Not knowing if I would even be doing it in another year, I got the domain registered, figured out how to put up a basic site using WordPress and I was off and running.
Blogging regularly is not for wimps. It takes a commitment. For awhile I tried to do one a week, but that didn't seem to be enough. For a (very) short time I even blogged once a day, but that was too much.
Now I've gotten into a rhythm where I post two articles a week alongside a new podcast/vlog, for a total of three a week. Those descriptions and links all make it into my TradeshowGuy Newsletter. I welcome guest articles andif you're interested please read the submission guidelines.
Blogging is fun, it's challenging, it's engaging. And when you write a lot about a general topic, you end up learning a lot about it. I hope you learn a few things, too.
Nimlok says: "Tim, the proprietor of "The Trade Show Guy" trade show blog, is a hilarious, thoughtful and informative source of trade show knowledge. His blog is dedicated to helping marketers create their own trade show success. Tim has years in the trade show industry and has excellent insight, so you can trust his advice."
Dio says: "Tim Patterson, a true Tradeshow Pro, has a blog chock full of tips and best practices for exhibitors looking to make an impact and get maximum ROI. But the blog is just the surface; there's a podcast too. The TradeshowGuy hosts Monday Morning Coffee, an informative weekly chat on topics ranging from trade show engagement to the importance of a daily routine. Not sure where to dive in? Start with seven ways to update your tradeshow exhibit."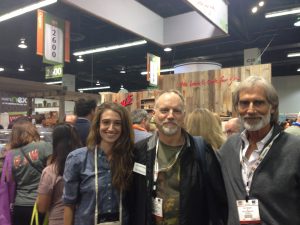 Read: The Top Ten Most-Viewed Blog Posts of the first ten years of the TradeshowGuy Blog.
A look at the Ultimate Tradeshow Exhibit Cheat Sheet, How to Attract Tradeshow Visitors, 23 Pre-Show Marketing Tactics, Promotions and Ideas and many more.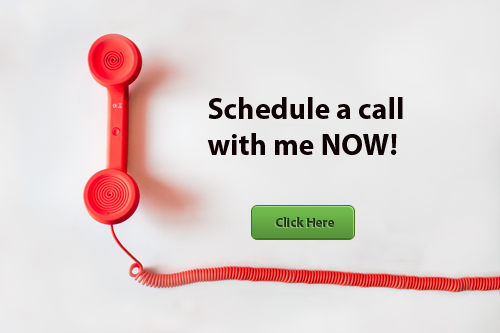 I PROVIDE OUTSTANDING TRADESHOW EXHIBITS
TO INCREDIBLE CLIENTS
Choosing an exhibit designer and exhibit fabricator is not the simplest thing in the world. Let's make it easier for you.
Most of our clients are coming to us because they're frustrated with older exhibits that don't accurately represent their brand any more. Or they are challenged by not having an exhibit with all the functional needs, such as not enough meeting space or product display space. If that sounds like you, please reach out to us and learn how we can help!
Submit a Quote Request and we'll take a look. We might be the perfect fit, we might not. Once we review your request, we'll get in touch and go over the details to help you determine if we should move forward.
Click the links here to go to either our company site, or our separate Exhibit Design Search. Or try both!
Testimonials & Featured Clients
Not too long ago, Josh Elledge of Up My Influence reached out to me and asked if I'd be a guest on The Thoughtful Entrepreneur podcast. Sure, why not? Sounds like fun!
Take a listen:
Josh posted The Thoughtful Entrepreneur podcast complete with transcript here. Check out the main site here: Up My Influence.
I WORK WITH CLIENTS ONE-ON-ONE TO HELP THEM SUCCEED.
You may be an exhibitor who is looking to move up from small, piecemeal and cluttered exhibits to bigger, better, streamlined and gorgeous exhibits.
You may need help with planning, strategy and logistics.
Ring a bell? Let's talk~
FREEBIES!
To help make your exhibiting go a little easier, we have a number of reports and webinars available, and of course, our weekly tradeshow marketing newsletter. We just need your name and email to get started!
Not Sure How to Shop for a New Exhibit?
TradeshowGuy Webinars Archive
A couple of dozen webinars and podcast interview all in one place: virtual reality, fabric graphics, record-keeping, staff training, developing content for tradeshow marketing and many more.
TradeshowGuy Webinars
I Write Books - Are These in Your Library?
Book 1: Tradeshow Success: 14 Proven Steps to Take Your Tradeshow Marketing to the Next Level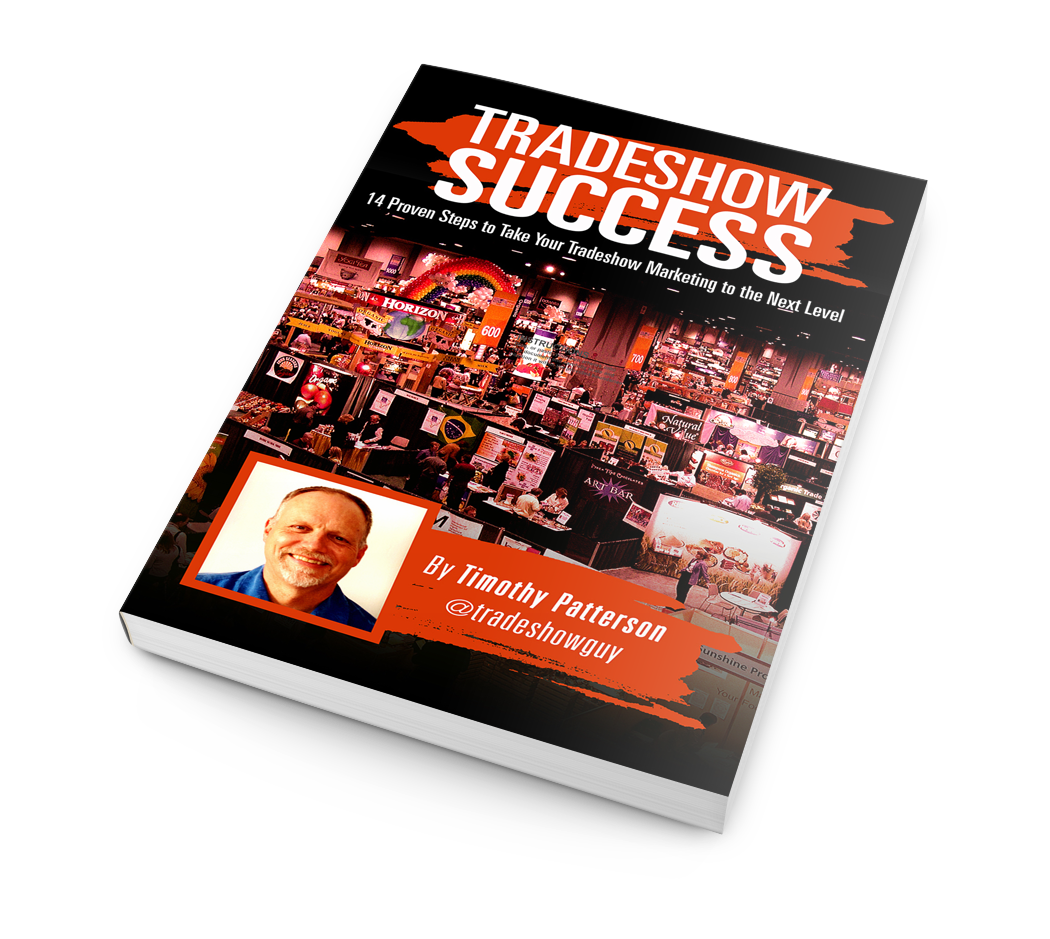 Praise for "Tradeshow Success: 14 Proven Steps to Take Your Tradeshow Marketing to the Next Level"
"Your book is really wonderful. Amanda in our Marketing Department saw it and said, "Oh, that's really smart! It could be like a textbook for marketing students and professionals." She's right. It's a really smart move for your brand. The content is great. I'm still trying to figure out if QR codes really do kill kittens : )" – Matt Cox, Vice President of Marketing, Bob's Red Mill "When Tim asked me to read Tradeshow Success, I thought, "Oh crap! Does the world really need another prescriptive manual about tradeshow marketing?" Boy was I wrong. You are in for a treat. Tim takes the dark arts of tradeshow marketing and makes them accessible to anyone – whether you're a novice to a tradeshow warrior. You'll meet characters like Katie from Gotcha! Cookies 'n' Treats and Wally from Pharaoh, with engaging and entertaining stories about their tradeshow challenges. Social Media? Tim immerses you in the "whys and hows" of using LinkedIn, Twitter, Emails, etc. to drive attendees to your booth and boost your ROI. And that's just one chapter! Design ideas, staff training tips, lead management, and more. It's all there for you to enjoy, implement, and share." – Mel White, Classic Exhibits
What Will You Find Inside?
This book walks you through the 14 steps to tradeshow success, from choosing the right shows, planning and budgeting a new exhibit, picking an exhibit house, training your booth staff, social media engagement, record-keeping and so much more. It's like having a pocket guide to doing all the right things.
Book 2: Tradeshow Superheroes and Exhibiting Zombies: 66 Lists Making the Most of Your Tradeshow Marketing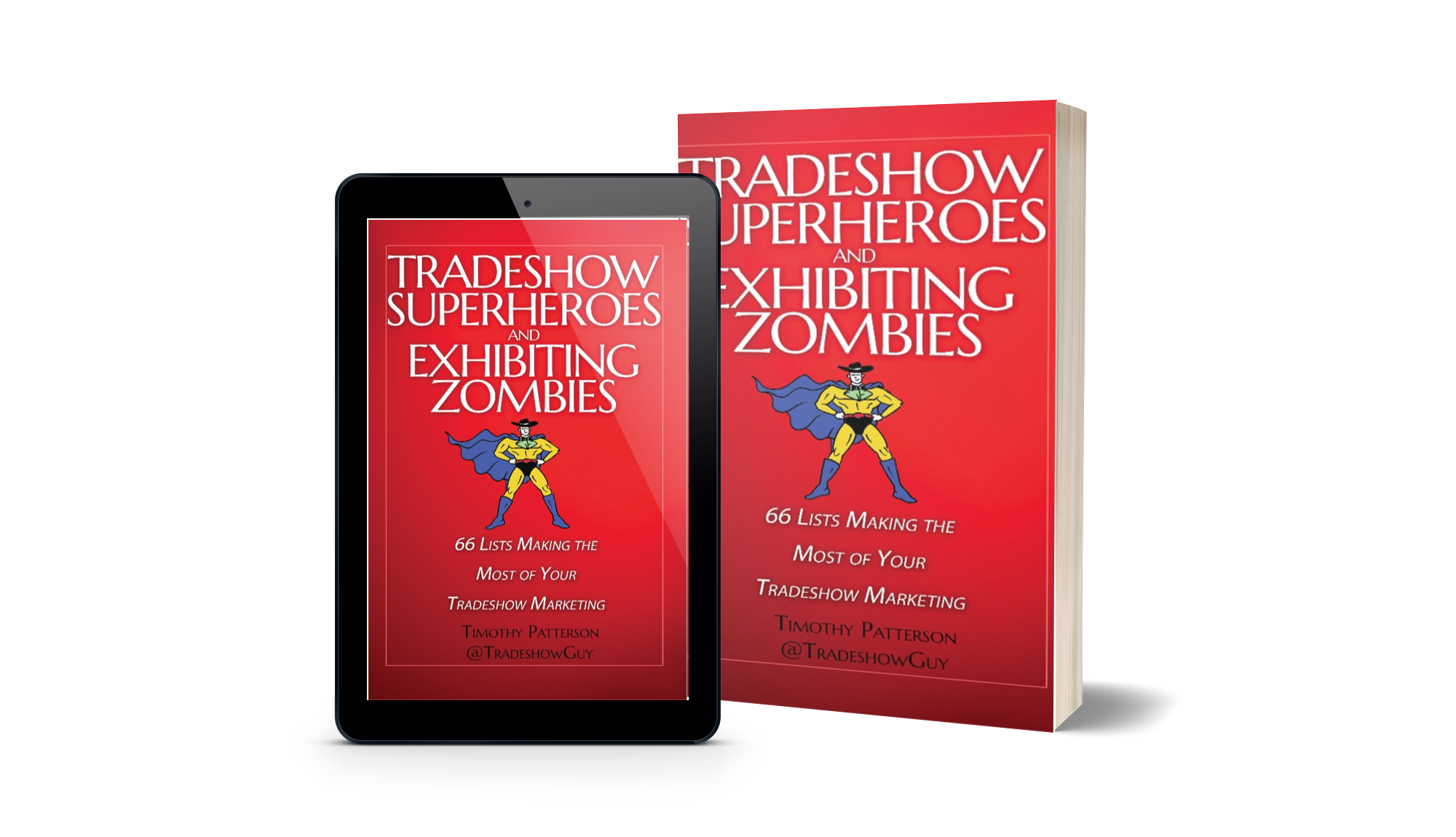 Praise for "Tradeshow Superheroes and Exhibiting Zombies"
"I dare you to implement 10% of Tim's suggestions and NOT have your best show ever. A list-o-pedia of everything to consider when you exhibit, from airfare to zombies."  – Andy Saks, Spark Presentations
"Tradeshow Superheroes and Exhibiting Zombies is a comprehensive sollection of tradeshow wisdom. Even the most experienced tradeshow veteran will find hints, tips and tricks for saving money and improving your tradeshow results."  – Anders Boulanger, The Infotainer
What Kinds of Lists Will You Find Inside?
Lists on budgeting, buying an exhibit, preshow marketing activities, what to do during the show, postshow follow-up, the why and how of tradeshow marketing and more fun stuff!
Turn your booth traffic into loyal customers and return visitors. Don't miss out!